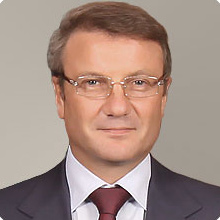 Blockchain Adoption in Russia Could Take 10 Years, Says Sberbank CEO
br>
Sberbank CEO Herman Gref has said that Russia needs 8 to 10 years to fully adopt blockchain technology.
"If we talk about Russia, we have the largest number of implemented projects concerning blockchain," Gref said. "Although, they are all in the experimental mode. We are experimenting a lot. Maybe in 2018 we will be able to introduce some products on a large scale. The blockchain technology is one of our tricks. I estimate the implementation horizon of the technology in 8-10 years."
In October, Sberbank became the first Russian bank to join the Enterprise Ethereum Alliance (EEA), a collaborative consortium of businesses, governments, and private entities working together to promote interoperability and business-ready ethereum blockchain solutions. The EEA unites major international companies like CME Group, Credit Swiss, DTCC, ING, JPMorgan, Santander, UBS, Accenture, Deloitte, Intel, Microsoft.
Gref said the commercial use of the ethereum blockchain could begin playing out of the next year or two.
"So far we have implemented 15 different projects, but they are still experimental in nature," he said. "The technology is not yet ready for commercial implementation, it will take another year, maybe a year and a half or two, so that we can start using it.
Last month, Sberbank carried out the first blockchain-based transaction in Russia using IBM's blockchain platform, which is built on Hyperledger Fabric. The IT infrastructure of Sberbank provided the basis for a service to create a uniform transaction procedure, a network certification center, and a client web application with a personal account feature.