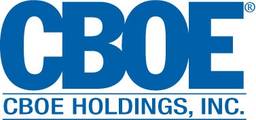 CBOE Teams With Winklevoss Twins for Bitcoin Futures
br>
CBOE Holdings Inc., the largest US options exchange, is teaming with Cameron and Tyler Winklevoss's Gemini Trust Co. to create a vehicle for bitcoin derivatives.
The agreement will use Gemini's bitcoin data to create futures on bitcoin. Pending regulatory approval, Chicago-based CBOE plans to create the platform by the end of the year. CBOE also has the right to create and distribute new indexes under the contract.
New York-based Gemini is on appeal with the US Securities and Exchange Commission. They sought to create the first US exchange-traded fund, but were initially denied. The SEC still has the matter under review after closing public comments in May. If approved, the ETF will likely be listed on CBOE's stock exchanges.
Cameron Winklevoss told the Wall Street Journal that the agreement "will bring more participants into the market who will now be able to express a viewpoint on bitcoin."
If the agreement is approved by regulators, investors will be able to make directional bets or hedge holdings. The initial plan is to have monthly expirations on digital currency futures.
The proposed service will compete with New York firm LedgerX, which last week won approval from the Commodity Futures Trading Commission to exchange and clear cryptocurrencies.
The CFTC previously granted LedgerX the ability to trade and clear options on bitcoin, proclaiming it a full status Swap Execution Facility (SEF). By naming it a Derivatives Clearing Organization (DCO), LedgerX is the first federally-regulated bitcoin options exchange and clearinghouse to list and clear fully-collateralized, physically-settled bitcoin and other crypto options for the institutional market.
LedgerX is an institutional trading and clearing platform which has been waiting for three years to achieve full regulatory approval from the CFTC to trade and clear options on bitcoin.
Reports indicate LedgerX will target roughly five cryptocurrencies for its exchange and clearinghouse, evaluating candidates based on market cap and functionality. Initial coin offering tokens will not be considered.