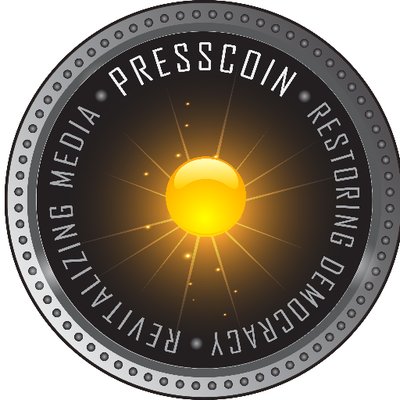 Cryptocurrency For Investigative Journalism Launches ICO
br>
A group of news organizations and journalists in various parts of the world have joined forces to create PressCoin, a cryptocurrency aimed to sustain funding for investigative journalism.
The group said that the rise of digital technologies has destroyed old business models of the print press and eaten into online advertising revenues. Massive monopoly digital players, like Google and Facebook, dominate content and revenues. Quality journalism is overtaken by alleged "fake news." Bias and ideology spread like wildfire, as anyone can target you with inaccurate information to make money.
PressCoin plans to change this story by bringing together cloud-based publishing and big data technology, plus the innovation engine of cryptocurrency and the blockchain. By raising $100 million in its NEWS token initial coin offering (ICO), PressCoin intends to provide real competition to the platform giants in the news space within five years. The PressCoin ICO started on December 11 and will run until January 21.
PressCoin protocols are designed to capture the economic value of each interaction – from specific ones such as creating content for investigative reportage, or running exit polls, or elections focus groups; to general ones such as moderating comments, or raking a politician. PressCoin said this decentralized value is captured for each user, be it a producer or consumer or distributor, and allows them to be compensated in real money via the PressCoin cryptocurrency.
PressCoin platforms will reward journalists, citizens, local news organizations, and local businesses with revenue and real asset ownership of the PressCoin ecosystem. This will create a sustainable foundation for independent journalism – making free press possible – by enabling true independence – financial independence, while rewarding investors.
PressCoin plans to support any media platform that wishes to join the ecosystem. The only requirement is adherence to PressCoin's system of protocols. By creating a common protocol and a share set of data and financial services that power each platform, the resulting system is a future-proof model of post-Facebook journalism and news ecosystem.
PressCoin is founded by Dr. Nafeez Ahmed and Gunther Sonnenfeld. Ahmed is an investigative journalist and complex systems analyst, formerly of The Guardian, now a columnist at VICE's Motherboard covering global system transformation. Ahmed is CEO and founding editor of INSURGE intelligence, a crowdfunded investigative journalism project that is PressCoin's flagship platform.
Sonnenfeld is a practitioner in the areas of innovation and entrepreneurship who has keynoted alongside the likes of Sir Richard Branson, Arianna Huffington and Guy Kawasaki. He has also received a Forrester Groundswell Award in collaboration with Adobe's elite applied analytics group, as well as top honors in the Virgin Media Lab.