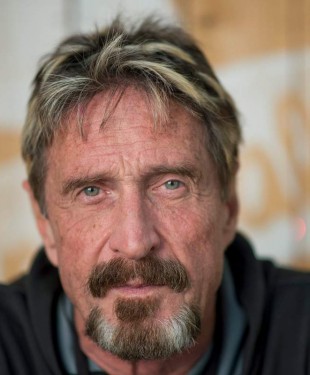 McAfee Predicts Forked Bitcoin to Hit $500K
br>
In a series of Tweets, eccentric software security entrepreneur John McAfee has indicated bitcoin's single-coin price will hit $500,000 in three years. If it does not, he promised to perform a vulgar act of self-abasement on national television.
McAfee later hedged that he was talking about the forked version of bitcoin that may emerge if the upcoming SegWit2x block updates result in a split into two camps.
However, the security expert later clarified in a series of tweets after much questioning that he was referring to the proposed fork of the top digital currency by a group seen to be championed by Jihan Wu.
McAfee already has a stake, being the CEO of MGT Capital Investments, which mines digital currencies. He used a mathematical determination (called, variously, point-set-topology, set-theoretic topology, or general topology) to arrive at his number.
He defended Jihan Wu, the head of Bitmain mining company whose brands include Antminer, Antpool, and Hashnest, a strong backer of the Bitcoin Unlimited push toward SegWit2x.
"I'm hanging with Jihan. That's where the money is. And yes, he us (is) a great friend. And the smartest man I've ever met."