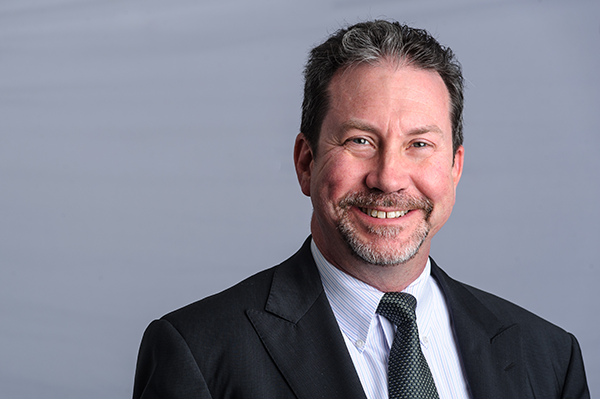 OPINION: John Callahan: "Dear CFOs: Start Preparing for Blockchain Now"
br>
Dr. John Callahan is responsible for the development of Veridium's enterprise-ready biometric solutions, leading a global team of software developers, computer vision scientists, and sales engineers. He has previously served as the Associate Director for Information Dominance at the U.S. Navy's Office of Naval Research Global, London UK office, via an Intergovernmental Personnel Act assignment from the Johns Hopkins University Applied Physics Laboratory. John completed his PhD in Computer Science at the University of Maryland, College Park.
Dear CFOs: Start Preparing for Blockchain Now
By John Callahan, Chief Technology Officer of Veridium
Likely, you've heard of bitcoin, but you may not know about the technical engine that laid the foundation for bitcoin to function – blockchain. At its simplest, blockchain is a decentralized, global notary ledger.  Information recorded on the blockchain can be later retrieved, verified, exchanged, transferred, decrypted, or used as a proof of possession, non-repudiation, or for attestation depending on the use case and context.
So, why should CFOs pay attention to this emerging technology?
Transparency
Let's face it – accounting departments can be slow to adopt new technology, and while ideally a company's C-suite is filled with proactive professionals driving the organization forward, it's not always the case. Many accounting departments still track and enter data manually, and the only time a full financial report is seen is at the CEO's request, which typically occurs on a quarterly basis.
With blockchain, however, CFOs have access to a record of each cent that moves through its company in real time. Anyone in the C-suite (or accounting department, for that matter) could see exactly what payments are made, and payment cycle data could be tracked automatically.
Security
CFOs who choose to implement blockchain technology also have the benefit of a scalable and secure ledger with unlimited account creation and programmable, trackable money. That's the beauty of blockchain – no individual can alter the ledger, since it exists across a distributed network. This transparency allows for the source of the fraud to be traced immediately, thus eliminating the risk of employee theft or fraud.
This is especially important in today's world, with trader fraud is on the rise. Last year, the Securities and Exchange Commission announced it filed 868 enforcement actions exposing financial reporting-related misconduct by companies and their executives.
The truth is, when it's an inside job, trader fraud is "easy" to pull off.  Passwords and tokens are insufficient security measures in themselves because they cannot authenticate who requested the authorization. If a trader is required to authenticate a trade with a biometric identifier – like a fingerprint – there would be no question about its ownership. Biometrics provide the legal non-repudiation needed to significantly reduce trading fraud.
Biometrics alone, however, may not even be enough. If financial institutions truly wish to practice strong security measures, they will adopt the one-two punch of biometrics and blockchain. With biometrics, we can prove transaction signing is safer, but if the log itself is rewritten – biometrics cannot protect against that. This is where blockchain comes in: adopting blockchain to store signed transactions makes the log decentralized, untouchable, and more importantly – transparent.
New Opportunities
Blockchain is most closely associated with the finance industry right now. But there are clear opportunities in a variety of industries, from healthcare, to tracking votes, to deeds and mortgages. The largest impact, however, will be in identity: passports, driver's licenses and national ID cards can be lost, but imagine not worrying about proving who you are: that you have a college degree, that you own a specific house, car etc. Using authentication credentials that combine who you are (your biometrics) with what you know (a password or other secret) will be all that is needed to connect you with the chain of claims on a blockchain. The public transparency and auditability will provide comfort regarding the incorruptibility of such claims, and give us more convenience in our lives without fear of needing access to physical objects that can be forged, lost, or stolen.
In the same way that technologies like TouchID and image capture crossed industries to impact the way we access and manage our finances, so, too, will blockchain impact processes in other sectors.
The Path Forward
Although blockchain is starting to receive recognition from large banking institutions, implementing the technology across the banking industry may take some time. Blockchain has been one of the most mysterious and disruptive technologies since the Internet, and like the Internet, it will not be adopted overnight.
So, what will it take for blockchain to take off as the next big technology? For the Internet, email was the driving force, pushing wide use. Blockchain will also require a "killer app" of its own, forcing wide adoption. Bitcoin started the revolution, but it, too, needs a larger platform. Likely, the killer app will involve information of value rather than its proxy, since money is the medium of exchange. We can't be certain when this app will be created, but when it does, blockchain will truly take off.
Many believe that identity is the killer app: the creation of digital identity credentials that live on the blockchain. Your identity claims will live on the blockchains instead of in physical documents like a birth certificate, passport, driver's license, etc. These documents may still exist, but as ephemeral artifacts, and you will control the dissemination and control visibility of personal identity information (PII – your birthdate, income, etc.). Self-sovereign identity (SSI) means that you control who sees what credentials, control the creation and revocation of the visibility of attributes, and ultimately decide where your digital identity resides (i.e., which blockchains).
If the course of tech history has taught us anything, we can see that blockchain is just in its beginning stages. But CFOs should take heed of this movement: if you don't understand and prepare for blockchain now, when the first blockchain integrated banks do arrive, you will be left in the dust.