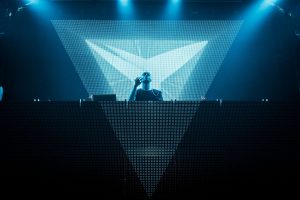 3Lau Blockchain Music Festival OMF Aims To Transform Concert Experience
br>
What's touted as the first blockchain-powered festival network is set to debut in San Francisco this fall, highlighted by a massive concert at Civic Center Plaza in the city.
The Our Music Festival (OMF) is a venture between dance music's Justin Blau (who goes by 3LAU), blockchain entertainment studio SingularDTV and festival promoter Prime Social Group. The group envisions a festival network that uses OMF tokens for ticketing, VIP upgrades, merchandise, food, beverages and other live event offerings.
The first acts announced for the Oct 20 San Francisco show are Zedd and 3LAU, with others expected to be added. Blau has released a string of well-received original tracks, including How You Love Me, Is It Love, Fire, On My Mind, and Hot Water, as well as remixes for Rihanna, Katy Perry, Shawn Mendes, and Ariana Grande — all of which have racked up millions of streams.
Most recently, he released his debut album, Ultraviolet, which reached #1 on iTunes Dance. He has appeared at such major festivals as Electric Zoo, EDC Vegas, and Lollapalooza, and tours extensively internationally.
Blau talked with Block Tribune about the OMF concert and his tokenization plans.
BLOCK TRIBUNE: So tell me about how this vision came about to do a live concert of this magnitude with blockchain. I know that Singular has done something smaller before with at least one artist. Did you approach them when you saw that and said, "Let's expand?"
JUSTIN BLAU: Yeah. So that's kind of … So the artist they worked with in the past was a good friend of mine, and at the time I was getting more and more involved in the space. And we obviously wanted to work with a company that had expertise in the intersection of entertainment and blockchain tech. So I reached out to Singular and said, "Hey, I've had this idea for a while. Is this something that we can work on together?" And Singular was extremely excited about it. I flew to New York, we had our first meeting, and everybody was extremely, extremely excited. And we have been working on this together for the past eight months, basically eight months.
BLOCK TRIBUNE: All right. Did you consider any other locations beyond San Francisco? Or is that just because it is sort of the heart of the technology industry?
JUSTIN BLAU: So, San Fran is a great place to start, but we envision these festivals existing all over … all over the world. We are already targeting Japan and Barcelona for 2019/2020 … depending on how quick we can move. And then of course, we want to work … as a partner of a lot of existing festival events.
So one of the partners of this project actually runs 18 festivals in the U.S., already. And we would like to bring them on to our network in the next two years. So, a combination of throwing our own event and bringing other festivals on to the network is the long term goal.
BLOCK TRIBUNE: What is the blockchain component in this specifically do? Is it just ticketing, or are there other things that can be done?
JUSTIN BLAU: So there are kind of three main … arenas that we feel are the perfect application for any kind blockchain tech. So ticketing is the obvious one, right? Counterfeit ticketing, scalping, aftermarket capturing value, all that stuff. Obviously, very easily solved with the blockchain ticketing system. And what we're excited about is, because we have real events … and of course we are throwing our first event in October. We have a real world use case and a real world test case … for the technology that we are going to build. And it enables us to learn as we build. So, that is part one.
Part two is utilizing small contract technology to engage fans at deeper level with the festival experience. So currently when a fan goes to any festival, they buy a ticket and then they go to the festival. They consume the festival, and they have to do the same thing next year at a higher price. With our intent and mechanisms that we are trying to develop, and that we are developing; we want to engage fans to do more than just consume the festival experience.
So part one is, when a fan buys a ticket to a festival event early, they are providing liquidity to the experience creator. To the people that are doing the festival. And the fan should be rewarded for providing that liquidity. So they get a rebate, in the form of our featured token. Part two is when they tell friends … to go to the festival, which happens already, right? When you go to a music festival, usually you want to go with a friend. You tell that friend, "Hey, did you buy your ticket yet?" The fan is creating value with that engagement, and so we compensate you for creating that value.
And then finally, when a fan completes a survey or any kind of questionnaire at the end of the festival. Most of the time no one wants to waste their time doing that, but if they could actually earn crypto from doing that we believe that the consumer attenders will align to complete more of those surveys. And any of that data will be publicly accessible. Right? So it's all public data.
So this is the three elements, or how blockchain technology could apply to a festival experience. One is, providing liquidity and buying tickets early. Two is, or sorry. One is the whole ticketing system, two is the inside the mechanisms that I was just explaining, and three is the public data. And so those are the three focuses of how we want to apply blockchain technology to music festivals.
And lot of the tech still needs to be developed, but we wanted to show our commitment to the project by throwing this huge event this year.
BLOCK TRIBUNE: So, the advent of new technology has always changed the music industry. How do you see this working on the way things are done?
JUSTIN BLAU: So, there are a lot of inefficiencies in live music that I have experienced first hand. I have been performing and playing shows for the past eight years. Before I was a DJ I was in finance, so I have a background in investment banking and asset management. And one of the things I have noticed in my career, as an artist, is just how inefficient the music business is.
Not just from the obvious fact that there are tons of middlemen that take little fees along the way, but most of the systems that exist for live music are pretty antiquated. And when you compare live music to digital music, digital music has been revolutionized in so many ways over the past 20 years. From Napster to iTunes to streaming now, right? The whole digital music space has evolved in massive, massive ways.
But live music really hasn't. It's really been the same. You just go to an event and then you go to the next event that your favorite band or artist is playing, and there is no real loyalty system. There is no … technological integration into a lot of these events. And so we kind of stand at the forefront of that intersection.
And when I first started learning about blockchain tech, in general, the applications became obvious really quickly. The challenge moving forward, is how do we make this easy for consumers to use? And that's why I feel we're in a really unique place to do that because, myself and my partners, we're all in the music business. It's not like we're trying to disrupt the music business from the outside. We're trying to change it from within. And I think that puts us in a really unique place to do it.
BLOCK TRIBUNE: A lot of venues have locked up contracts with Ticketmaster, etc. How are you going to circumvent that? Are you only going to do live events outdoors?
JUSTIN BLAU: That's actually a great question. So my partner, on this entire project, is a company called Prime Social Group. They are one of the largest, if not the largest, independent promoter in the United States. So sometimes they do partner with the Ticketmaster venue, sometimes they don't.
In the case of our first festival in San Francisco, we're actually doing it at a city owned venue. So we're actually … the stage is going to be right in front of city hall. In an area called Civic Center Plaza. And so … because my partner has a lot of experience throwing these events, obviously we can avoid some of the monopoly that exists in the live music space. And yeah, outdoor locations are optimal. Though there a lot of venues that … there are a lot of venues in this country, and of course overseas, that don't have that same kind of exclusivity.
So, yes. We do have to circumvent those issues, but I think … when you can think outside the box on where to throw one of these concerts, it could actually create a really unique experience. And that's why I am excited about our first event, because the stage is actually going to be right in front of City Hall in San Francisco. And that's kind of the … the beauty of having the challenge that you are describing.
BLOCK TRIBUNE: How are you going to be working with vendors like food?
JUSTIN BLAU: So in the short term, all of the food and beverage vendors are going to operate as any other festival. Well, as it would at any other festival. So, we can't accept crypto payments at the food stands … in year one. Right? Especially because there is different deals with different vendors. So it's basically going to be … in year one it will be just like any other food and beverage festival experience.
In year two and in year three, my goal is to actually enable…that you basically just swipe your hands at a POF terminal and you can pay for anything you want, with either our currency or any other currency. And ideally we incentivize fans to start using that technology by creating two different lines at the food and beverage stands.
So one line would be for regular payments, the other line would be for crypto payments. And of course, the crypto payment line is going to be way shorter and way faster turn around. And so we would incentivize fans to not have to wait on lines by using this technology. That's a goal for the future though. None of that's going to be year one. That's all year two … year three.
BLOCK TRIBUNE: So you have the technological elite and the shame line, right?
JUSTIN BLAU: Yes, yes.
BLOCK TRIBUNE: All right. So let's talk about your ICO. Are all the festival partners going to be involved in that?
JUSTIN BLAU: When you say are other festival partners going to be involved in the ICO, what do you mean by that?
BLOCK TRIBUNE: Well, Singular, you, the guys who are doing the actual production of the concert?
JUSTIN BLAU: Oh. Oh, yes. Sorry, when you said other festival partners, I thought you meant other music festivals that already exist. So the only partners on this project … is Singular is a partner on this project, myself, my marketing director Kevin, and then Adam Lynn who is the CEO and co-founder of Prime Social Group. Prime Social Group is the company that does the 18 festivals here in the U.S., they do a festival in Barcelona, and they sell over 400,000 tickets every year. So they're big beef when it comes to this stuff.
BLOCK TRIBUNE: When is the anticipated launch of that ICO?
JUSTIN BLAU: So, there are going to be three rounds. There is a private round that basically already completed. Then there's a semi-private round that will launch sometime after the first festival event. And that private round will, obviously in the U.S., be only available to credited investors and, outside of the U.S., be available depending on the jurisdiction in different countries. That round, ideally, will launch in November.
And then, following that round, the token will be publicly available. But the reason why we are being extra careful is because … and I have a lot of lawyers, too many lawyers, crazy legal bill. We want to make sure that … the token is viewed as a true utility token, before we make it publicly available. And in order to do that, we need to make sure that the token actually has utility. So that limits and restricts us from hosting too many rounds of funding, in the short term, to the public. Right?
I don't even like calling it an ICO. I'm referring to it as a private token offering and then in the future the token will be publicly available. And it will only be publicly available when there is real use cases. So that's the-
BLOCK TRIBUNE: Do you think the SEC will agree with that assessment?
JUSTIN BLAU: So all of our lawyers, and I personally … we're designing the token and the structure so that the SEC will think that it is not a security. But we can't guarantee that until we actually have confirmation. Right? So we're just being extra careful about every single step of the process.
BLOCK TRIBUNE: Now, you mentioned, in the release that I saw, that the token holders may influence the festivals themselves. Would that be through the data that you collect at the end of the show?
JUSTIN BLAU: That's the easy, obvious application. And that's … obviously, the data will help us make decisions for the future. But ultimately we want the fans to actually help select the lineups. That's a long term goal. How we do that, that's a big question mark. Right? There's a lot of different schools of thought and ways that we can engage the fans to actually pick the lineup to the festival.
But, again, that is three to five years down the road. And right now the idea is, basically … tracking the volume of a wallet or of a wallet's OMF transactions. And add the … as the band earns more, they'll get status and they'll be able to vote at a higher level for different artists for lineups. So it's like, just to be perfectly clear, the lineup thing was the original vision for this project. To basically let the fans pick the lineups for festivals.
But we really have to figure that out as we go. And we don't want that application to stop us from starting the process. So as we develop this, and as we watch fan's behavior; I think it will be easier for us to figure out the best way to execute that vision.
BLOCK TRIBUNE: Obviously there's a lot of moving parts to putting on an event, are you going to be paying people in cryptocurrency or fiat?
JUSTIN BLAU: Most of the first event … if anybody wanted to accept crypto, on the vendor logistics side of the festival, then we could. And we would be happy to. But Adam, my partner is planning all of the festival logistics, and he is basically running this festival as he would any other festival.
So most of the payments, on the backend, will be in fiat. We do want to offer … for the fans who want to buy tickets and do anything else, we want to enable crypto payments wherever we can in year one. And it's pretty easy to do now with web based commerce. But, on the backend side, a lot of these vendors are old school. Most will probably accept fiat payment.
BLOCK TRIBUNE: Are there any concerns by concert insurance companies or anything like that about doing an event with this new technology?  
JUSTIN BLAU: No, only because the event itself isn't dependent on crypto. Right? So the event is just like any other event. It just has a crypto component. And as we build the test, we'll integrate it more. I think the only insurance concern down the road would be … I don't know, if the whole ticketing access system went down for whatever reason. Yeah, then we would have insurance for that, and my partner does have insurance for those kind of issues. But I don't see that as being an issue anytime soon.
BLOCK TRIBUNE: All right. Those are my questions. Anything you want to tell me about that I didn't ask you about?
JUSTIN BLAU: Well, I don't know how much you know about the first event. But on the record, it's October 20th at Civic Center Plaza, and Zedd will be headlining the show.And year one is really just about a celebration of our launch and the concept. And just as any other newer project is developing their tech, we're going to develop our tech over the next many years. But we also want to have a real world arena to test what we're doing. I think that's why I am super excited about this project, is because, we're going to have a real tangible aspect of our concept from year one.
BLOCK TRIBUNE: How involved are you going to be going forward? You're an artist in your own right, so how are you going to manage this whole thing?
JUSTIN BLAU: I love that question. I don't sleep. I am always on the phone. I'm actually … I've been touring for eight years. I'm very happy in my life. I'm basically going to be taking a lot more time off touring, so that I can focus on this project. I do have financial background and a background in this stuff. At least on a entry level basis. I haven't worked at big banks for the last 10 years, but I do have a lot of knowledge.
And so I'm working with a lot of great advisors, and some really amazing people who are helping me execute this vision. But, you are right, I am going to be taking some time off, touring, for the so that I can stay focused on this stuff, because this is my number one priority.
BLOCK TRIBUNE: Are you going to have to wear a suit every day?
JUSTIN BLAU: Thankfully, not because I can do a lot of this work from my house. I don't think I'll ever wear a suit, no matter what meeting I'm in. I just wear black t-shirts everywhere. It seems to be acceptable to people, no matter where I am.