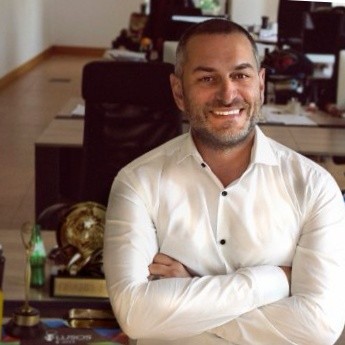 Award-Winning CMO Responsible for $13B Brand Value Joins DeFi
br>
Joah Santos will join decentralized finance (DeFi) to bring frameworks that have brought cultural movements through marketing from Dove, Corona Beer, AirBnB and more.
Santos brings over twenty years of experience with Fortune 500 companies, responsible for Dove's Real Beauty Campaign that helped end unrealistic beauty standards and supported the AirBnB campaign that made anyone feel at home, anywhere, instead of being a tourist. His marketing strategies helped bring $13B in brand value in just three years.
Santos is joining Aldrin (rebranded from Cryptocurrencies.ai this week), a cryptocurrency exchange backed by leading industry investors that focuses on democratizing the user experience of crypto trading. Aldrin's mission is to help resolve the steep learning curve for users new to the fast-growing world of DeFi and crypto by providing easier and friendlier access to advanced trading tools traditionally limited to the exclusive experienced trading club.
With three core missions from his marketing leadership at mainstream brands, Santos will focus on functional benefits: simplification and making trading visually accessible and friendlier to novices; emotional: creating simple tools to help all levels of users easily access simplified tools exclusively traditionally limited to experienced traders, and social: will help create greater equality in the playing field and improving the growing wealth gap.
Santos states that crypto is still in the same stage as the internet was in the late 90s: on the edge of global adoption but still awaiting the right features that make mass adoption possible.
While an ambitious goal, Santos will help Aldrin and, in turn, the companies listed on their exchange better market complex concepts to a much wider audience, with the intention of driving greater financial freedom and social impact.
Santos highlights the importance of decentralization, stating that cryptocurrency is mature enough now that we can make it more secure and make products well.
He believes that, "we have been taught to save our money, all while the government continues to print more. Those that hold their wealth in appreciating assets see a rise in value every time money is injected into the economy. The middle to lower-income class of the world sees the purchasing power of their bank accounts decline. Fiat currency's unintended fatal flaw is that it transfers the wealth of the working class to the wealthy, creating an even bigger wealth gap, as we have seen in recent years. Crypto can solve this, but it's not doing it yet," he said.
Hisham Khan, CEO of Aldrin, said, "It's time to make it easier for people and to level the playing field. We want to ensure that newcomers have access to the same tools that pro crypto traders do. So we're developing the tools and features to help increase wider usability, accessibility, and adoption."