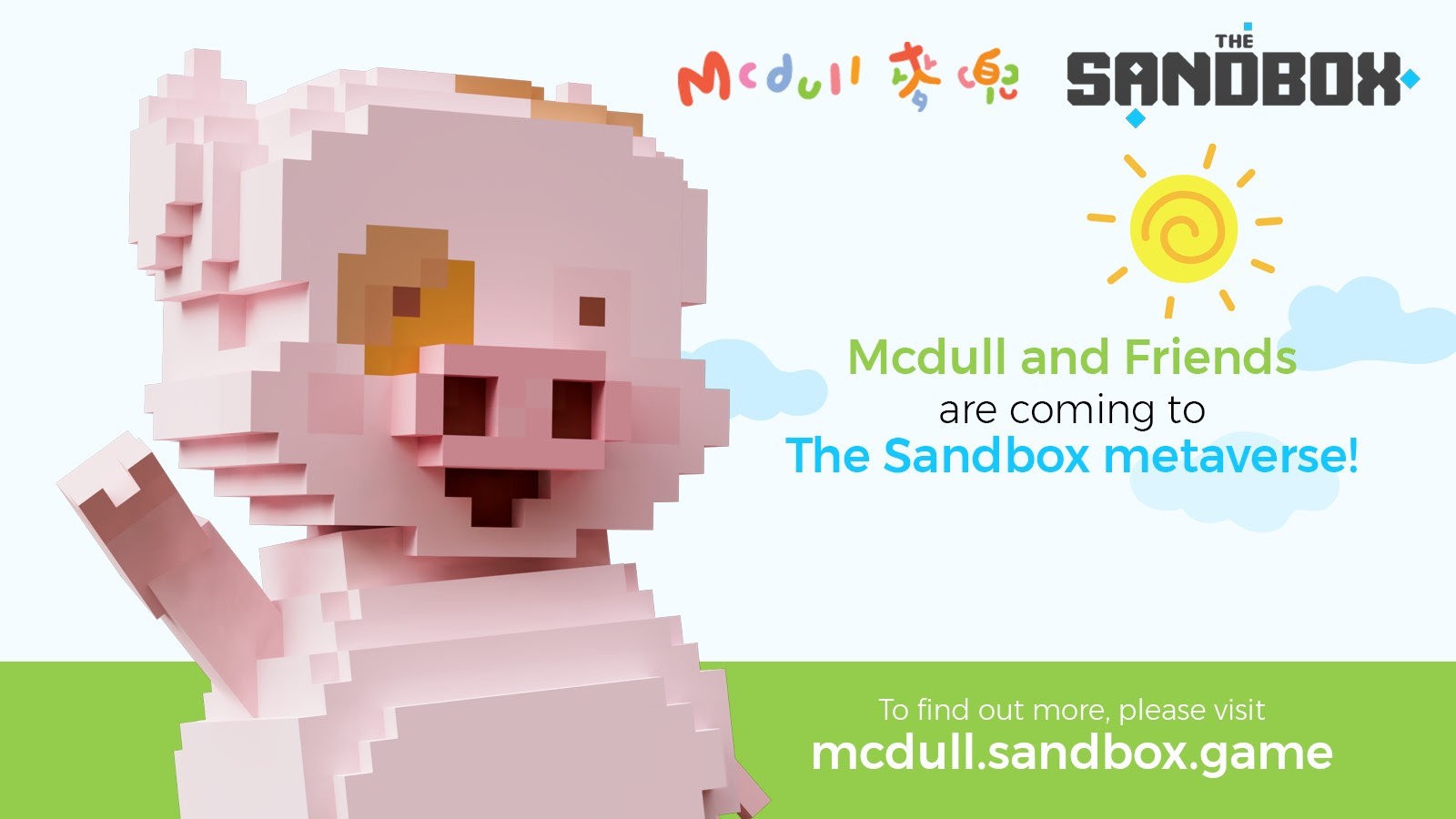 Blockchain Gaming Platform The Sandbox Partners With McDull to Launch UGC Games Featuring Popular Hong Kong Cartoon Character
br>
Decentralized gaming virtual world The Sandbox has teamed with animated figure "McDull" to bring the lovable piglet and friends to the Metaverse.
The Sandbox, a subsidiary of game developer Animoca Brands, is one of the decentralized virtual worlds that has been fueling the recent growth of virtual real-estate demand. The Sandbox has partnered with major IPs and brands including Atari, Rollercoaster Tycoon, Care Bears, The Smurfs, Shaun the Sheep, and Binance. Building on existing The Sandbox IP that has more than 40 million global installs on mobile, The Sandbox NFT Metaverse offers players and creators a decentralized and intuitive platform to create immersive 3D worlds and game experiences and to safely store, trade, and monetize creations through blockchain.
Created in Hong Kong by Brian Tse and Alice Mak, McDull is famous for his adorable appearance and warm-hearted personality. The character has featured in various comics, TV shows, and films. "My Life as McDull", the first animated feature film adapted from McDull comics, was released in 2001, and McDull has been a popular favourite with Hong Kong people since then. Aside from starring in films and TV series, McDull is an ambassador of cultural education, a spokesperson of branding activities, and the symbol of cartoon culture in Hong Kong. With McDull films winning awards at major Chinese and international film festivals, the slow but sincere piglet has gained increasing popularity throughout the region, making his appearance in The Sandbox especially noteworthy.
As part of the partnership, McDull will have his own gaming experience in The Sandbox, developed by Hong Kong artists and the Index Game development studio, and a special contest will allow fans to own virtual land next to the McDull Estate. The Sandbox enables anyone to create user generated content (UGC) gaming experiences and to share those experiences with other players, and soon fans everywhere will be able to take part in the quirky and unique world of McDull and to use McDull characters in their games.
"We're honored to create a space for Hong Kong culture to thrive within The Sandbox gaming metaverse around multiple game experiences featuring the lovable pig McDull and the McDull family of characters," said Sebastien Borget, COO and Co-Founder of The Sandbox. "It's important that we host a diversity of cultures and traditions that players can explore, like the gaming experience in the McDull Estate, as well as being able to use McDull characters in creating their own stories and adventures and let their imagination expand into the Metaverse."
McDull has acquired a 3×3 Estate of virtual LANDS on The Sandbox virtual world map. Users will be able to become Mcdull's neighbor and be given the opportunity to buy LANDS next to McDull's on the third wave of the Summer Jam land sale, scheduled for July 8th, 2021. The Sandbox's upcoming LAND sale event will offer additional premium LAND located nearby. Each purchasable LAND will include exclusive premium NFTs and have the possibility to host events, gaming experiences, or social hubs when the game is released later in 2021. The Sandbox has already sold 50% of its 166,464 LAND NFTs, releasing them in successive waves that usually sell out in seconds.
The Sandbox is scheduled to launch its first public Alpha for players in summer 2021, enabling anyone to experience a social hub and gain the power to build a fantastic collection of fantasy and role-playing adventures that can be traded with other players, creators, and artists on the platform.
"Creating an innovative presence for McDull in The Sandbox gaming metaverse is a powerful way to stay close to our fans while allowing their creativity to flourish," said Samuel Choy, General Manager of Bliss Concepts Limited, the owner and licensor of McDull and friends. "We look forward to seeing new, original stories featuring McDull that spring from the imagination of players and creators."