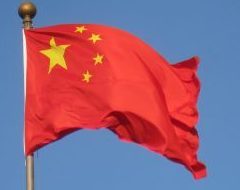 China Investment Restrictions Could Hurt Blockchain and Cryptocurrency Companies
br>
China will limit its domestic companies from future foreign investments in a range of intellectual properties and companies, citing concerns over rising debt levels.
Late last week, China's State Council, effectively its national cabinet, issued a declaration that limits overseas investments in entertainment, hotels, cinemas, real estate, and sports teams, and outright bans investments in sex and gambling properties. The crackdown dries up a strong pool of capital that has been particularly active in international investing over the last five years, including in blockchain and cryptocurrency companies.
One of the companies most affected by the new restrictions is Wanda Group, which owns AMC Theatres and Carmike Cinemas, making it the world's biggest cinema operator. Wanda also owns film production house Legendary Entertainment and failed in a bid to acquire Dick Clark Productions, producers of the Golden Globes and Miss America pageant.
The cooling Chinese economy has led to a general clamp-down on capital outflows in China over the last year. As domestic Chinese companies like Wanda, Anbang Insurance, Fosun International and HNA Group have become major players in debt-driven foreign investments, it created concerns for the tightly controlled Chinese government economic stewards that too much capital was going to markets outside its own. How this affects existing investments is unclear at the moment.
Instead of overseas investments, the State Council statement last week urged a focus on the "Belt and Road" project, a state-driven infrastructure plan to link China with other parts of Asia and Eastern Europe through highways, railways and utilities.
"There are great opportunities for our nation's companies to embark on foreign investment, but they also face numerous risks and challenges," the State Council document said. The document went on to promote the "rational, orderly and healthy development of foreign investment while effectively guarding against risks," it said.