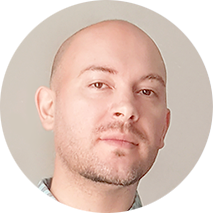 Enjin Coin: Customizable Cryptocurrency and Virtual Goods Gaming Platform
br>
Maxim Blagov is the Co-founder and CEO of Enjin, a social gaming platform.
Blagov has 15 years of expertise in creative direction, project management, and UX design. He is an expert in concept & strategy development for large interactive applications, specializing in the video gaming industry.
Enjin ​is ​introducing ​Enjin ​Coin ​(ENJ), ​a ​new ​cryptocurrency ​(ERC20 ​Token) ​and ​smart contract ​platform ​that gives ​game ​developers, ​content ​creators ​and ​gaming ​communities the ​required ​crypto-backed ​value ​and ​tools ​for implementing ​and ​managing ​virtual ​goods. Enjin ​will ​develop ​an ​open-source ​software ​development ​kits ​(SDKs), wallets, ​game ​plugins, ​virtual ​item ​management ​apps ​and ​a ​payment ​gateway ​platform.
Enjin has raised 72,149 ETH (approx. $22M) from 16,068 backers in its ongoing initial coin offering (ICO). The ICO started on October 3 and will run until October 31.
BLOCK TRIBUNE: Could you tell us a bit how Enjin got started?
MAXIM BLAGOV: Witek Radomski, the company's co-founder and CTO, and I started building the Enjin CMS platform in 2007, as gamers ourselves, we knew how tiresome it was to build a website from scratch, so we wanted to provide gaming communities an easy way to build their own so they could focus on the things that matter (gaming)! Enjin is one of the first social gaming website building platforms in the space. We focused on ease of use and flexibility, Enjin.com has now grown to more than 18 million users. Focusing on Ease of Use and Flexibility are the 2 things we are applying to Enjin Coin which we believe are fundamental for quick adoption.
Enjin Coin is a natural progression of features and an important innovation to our network and for the game industry. A large majority of our communities set up the Enjin Shop module to process their virtual goods, we understand how chargebacks and fraud play a big part, so offering a completely new and decentralized method for processing and creating virtual goods meets the needs for both in-game item management and trading value within communities. Enjin Coin is not just for the Enjin Network but will expand far across the landscape of gaming, as we will provide easy to use open source tools for developers to easily plugin their games to the Enjin Coin Ecosystem.
BLOCK TRIBUNE: What was your biggest challenge in putting this together?
MAXIM BLAGOV: In terms of Enjin Coin, the biggest challenge I'd say was timing the release according to the market, and marketing within such a booming and crowded space, additionally finding the right Legal advice, as this landscape changes from one minute to the next, keeping up to date with regulations can be a challenge.
BLOCK TRIBUNE: As you look at Enjin's roadmap now and into the future, what is a key milestone that you see for yourself?
MAXIM BLAGOV: Right now we are working towards the integration of the Minecraft Plugin, which is set for End of Year at a very ambitious timeframe. We already have our existing Enjin Minecraft Plugin used by 1000s of communities, so we are now opening it up to be blockchain/Enjin Coin compatible. This will be one of the first use cases and the introduction of cryptocurrency to our millions of users, so a key milestone to be sure.
Other huge milestones that we are working towards and very excited for is the launch of our Enjin Smart Wallet, and an MVP for Java SDK.
BLOCK TRIBUNE: Multiple countries issued warnings to their citizens about the dangers of ICOs. How are the holders of Enjin tokens protected under the current framework?
MAXIM BLAGOV: Enjin is registered in Singapore for more than 5 years now, so when launching a token sale, our location played a huge role in both regulatory checks and determining our status. Having an established business, and within Singapore jurisdiction helped with a basic framework and understanding.
BLOCK TRIBUNE: Where do you see the value of Enjin tokens in the medium to long term and the ultimate benefit for token holders?
MAXIM BLAGOV: Over the long term, as Enjin and game developers create more integration in an expanding ecosystem and Enjin Communities are trading and using the coin for website and forum activity, and Enjin attracts more partnerships with game developers that will adopt Enjin Coin for item management and currency in-game, our token holders will see demand for the coin increasing dramatically as items are locked up in different game and server economies, and gamers and game developers will want to use the coin for the many benefits it provides, such as: frictionless transactions, lower fees, and less charge-back and fraud. As there are only 1 billion coins ever created and usage avenues start to quantify, token holders that have purchased during the initial stage will find value in the long term.