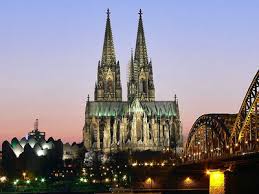 European Blockchain Institute Planned By German State Of North Rhine-Westphalia
br>
The government of North Rhine-Westphalia, a western German state, is planning to establish a new center to research blockchain technology.
Dubbed the European Blockchain Institute, the center will be founded later this year in the city of Dortmund, inside the Fraunhofer Institute for Material Flow and Logistics (IML).
"The science location Dortmund with its technical university and the Fraunhofer experts for logistics is the right place for it, said NRW Economics Minister Andreas Pinkwart. "In the US, IT scientists were already working hard on the "Internet of Values". Europe has to catch up, and NRW has the chance to be a pioneer with the creation of the European Blockchain Institute."
Critics of blockchain are concerned about the amount of energy being consumed through the mining of bitcoin, but Pinkwart believes that the "Internet of Value" will prevail.
"This technology can be safe, decentralized, affordable and, when used properly, not too energy-intensive," Pinkwart said.
In February of this year, the Cabinet of Germany, the chief executive body of the German government, announced that it will introduce a blockchain strategy for the country by mid-2019. Currently, there are FinTech sandboxes in five different member states within the EU – Lithuania, Denmark, Netherlands, Poland, and the United Kingdom. The Cabinet said that these states will undergo an online consultation process prior to introducing the blockchain strategy.