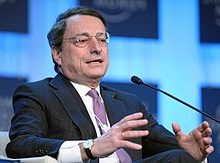 European Central Bank President: Can't "Prohibit and Regulate" Crypto
br>
European Central Bank (ECB) President Mario Draghi said his organization cannot regulate cryptocurrencies, as they lack the authority to do so.
Draghi's statement to the European Parliament's Committee on Economic and Monetary Affairs indicated that "it would actually not be in our powers to prohibit and regulate" cryptocurrencies, but said that digital currency has little effect on the economy. "They are still too immature to be considered a viable method of payment." He later said that the ECB has not discussed the potential impact of cryptocurrency.
His takes were in response to the committee's questions on whether the ECB will issue either a regulatory framework or a ban on cryptocurrencies. The committee also asked Draghi whether FinTech firms should be required to have higher capital to protect the banking sector.
Draghi was among those criticizing Estonia's e-Residency project, which is said to be considering creating its own cryptocurrency, estcoin. Draghi said that no country can introduce its own currency in the eurozone.