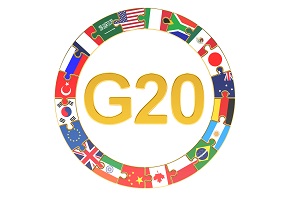 G20 Leaders Ask Regulators To Monitor Crypto Risks
br>
Financial policymakers from the world's top 20 economies have asked the Financial Stability Board (FSB) and global standard-setting bodies to monitor crypto risks.
In a joint communiqué published on the website of Japan's Ministry of Finance on June 9, the G20 leaders said that while crypto-assets do not pose a threat to global financial stability at this point, they remain vigilant to risks, including those related to consumer and investor protection, anti-money laundering (AML) and countering the financing of terrorism (CFT).
According to the G20, they are committed to applying the recently amended Financial Action Task Force (FATF) Standards to virtual assets and related providers for AML and CFT, are planning to adopt the FATF Interpretive Note and Guidance by the FATF at its plenary later this month. They also welcome IOSCO's work on crypto-asset trading platforms related to consumer and investor protection and market integrity.
In April, the FSB published a directory that provides information on the relevant regulators and other authorities in FSB jurisdictions and international bodies who are dealing with crypto-asset issues, and the aspects covered by them. Earlier this month, the board published a report on crypto-assets focused on the ongoing work, regulatory approaches and potential gaps.
"We welcome the FSB's directory of crypto-asset regulators, and its report on work underway, regulatory approaches and potential gaps relating to crypto-assets," the G20 said. "We ask the FSB and standard setting bodies to monitor risks and consider work on additional multilateral responses as needed."
The G20 concluded that they will continue to step up efforts to enhance cyber resilience, and welcome progress on the FSB's initiative to identify effective practices for response to and recovery from cyber incidents.