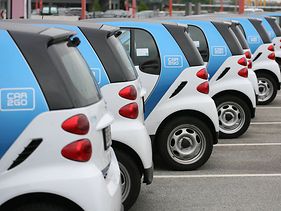 Industrial Manufacturing Giant Siemens To Use Blockchain For Carsharing
br>
Industrial manufacturing giant Siemens is considering adopting blockchain technology to improve the carsharing market.
Forbes reported that Siemens is exploring the use of blockchain technology in the area of mobility. Its daughter company Siemens Mobility, which provides transport solutions relating to the movement of people and goods to various locations globally, is reportedly looking to incorporate blockchain tech into carsharing, a model of car rental where people rent cars for short periods of time.
Andreas Kind, Siemens Corporate Technology's head of cybersecurity and blockchain, noted that folks who live or work in larger urban areas often rely on carsharing.
"There's a big transformation happening. So in the future, there will be many more opportunities around mobility services, rather than simply selling a car, and you see it already in the context of carsharing for instance," Kind said. "People want to go from A to B rather than having a car and moving because it's just much more conveneient sometimes than having your own car."
However, Kind mentioned that the current carsharing model have some issues that need to be addressed, including the associated fueling cards, which allow the car renters to refill on gas.
"It's not only inconvenient for the drivers, it's inconvenient for the companies because fueling cards get stolen [and] they get sold on the Internet," Kind said. "That's an example where, in an industrial context, you need something, a technology, that brings together different participants that [don't] fully trust each other. That's exactly where blockchain can add value."
According to Kind, blockchain technology can enable "a much more frictionless way of transacting."
"The transaction could be in car delivery, it could be [in] simple carsharing, like unlocking a car," Kind said. "Interacting parties, such as managers, the organization owning the cars, garage providers, etc. All this should be completely seamless in the way the transaction is happening, and blockchain is really the right technology here."