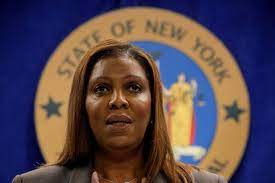 NY Attorney General Files Lawsuit against Crypto Exchange KuCoin for Violating Securities Laws
br>
On Thursday, March 9, 2023, crypto exchange KuCoin was sued by New York Attorney General Letitia James for falsely representing itself as an exchange and failing to register as a broker-dealer for securities and commodities.
Launched in September 2017, KuCoin is a cryptocurrency exchange that operates in over 200 countries. Seychelles-based KuCoin provides a multilayer encrypted KuCoin wallet with offline storage through bank safe and/or money escrow. Profit-sharing is another feature of KuCoin for token holders. The exchange has $3.1 billion in assets on its platform and does over $700 million in daily volume.
The lawsuit, filed in the Supreme Court of the State Of New York County, alleges that the platform violated the Martin Act when it sold, offered to sell, purchased, and offered to purchase cryptocurrencies, including ETH, LUNA, and TerraUSD (UST) which are commodities and securities, to New Yorkers without registering with the attorney general's office.
The lawsuit also accused KuCoin of issuing and selling its KuCoin Earn product — which is classified as a security — without registering as a securities broker or dealer. Moreover, it claims KuCoin falsely identified itself as an exchange without the necessary registration or designation.
In a press release, Attorney General James claimed that her office was able to buy and sell cryptocurrencies on KuCoin in New York even though the company is not registered in the state, adding that the enforcement action aims to restrict KuCoin from operating in New York and prevent access to its website until it complies with the law.
"One by one my office is taking action against cryptocurrency companies that are brazenly disregarding our laws and putting investors at risk," said Attorney General James. "Today's action is the latest in our efforts to rein in shadowy cryptocurrency companies and bring order to the industry. All New Yorkers and all companies operating in New York have to follow our state's laws and regulations. KuCoin operated in New York without registration and that is why we are taking strong action to hold them accountable and protect investors."
The enforcement action continues Attorney General James' efforts to uphold New York laws in the cryptocurrency industry and safeguard New York investors. Last month, James filed a similar lawsuit against crypto exchange CoinEx.
A copy of the original filing can be found here.