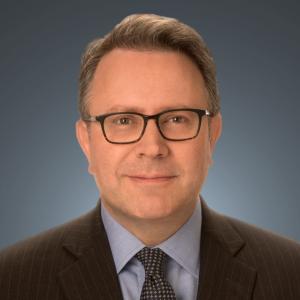 Rick Levin: China Crypto Will Be "Bigger Than Bitcoin"
br>
Rick Levin is the Fintech Practice Chair of national law firm Polsinelli. His practice focuses on representing early-stage and publicly-traded companies in the financial services industry, including investment banks, hedge funds, alternative trading systems, exchanges and digital currency platforms before the SEC, the CFTC, FINRA and foreign regulators. He is a co-author of The Digital Currency Handbook and was a partner and the co-chair and founder of the digital currency team at a global law firm. Levin has also served as the general counsel and chief compliance officer of two joint ventures of leading global investment banks, which operated several U.S. and European alternative trading systems.  
Levin spoke with Block Tribune about the recent upheavals in China and what might happen with initial coin offering regulations.
BLOCK TRIBUNE:  So, you're positing that the China rulings about exchanges and ICOs are no big deal.  Tell us about that.
RICK LEVIN:  I think that there's a fair amount of overreaction to what the Chinese government has done. I think the Chinese are, in typical fashion, saying, "We want to better understand it. We want to make sure the people are complying with the law before we allow this to get out of hand." I do anticipate the Chinese government will come forward and say that they may end up creating their own digital currency and also licensing, sales and securities using technology and then also, offerings of coins that could be commodities. So, I think the Chinese government will offer a mechanism. But I think right now everybody's reacting to the position they've taken initially.
BLOCK TRIBUNE:  So it's a matter of control, more than anything, you're saying.
RICK LEVIN:  I think that's right. The Chinese government is particularly concerned about any mechanism that could interfere with their ability to manage their monetary policy and to manage their economy and their reserves, the foreign currencies and capital flows. So, I think that whenever you have anything like this, which could impact that, they are going to proceed with cost in a fairly prudent manner.
BLOCK TRIBUNE:  For whatever their reasons, this is a huge market that's suddenly not going to be available to the cryptocurrency world. What do you see that impacting?
RICK LEVIN:  I think people are going to have to get regulated. And as a securities regulatory lawyer, that's what I've always thought, is that the United States, with the Dao report indicating that token offerings could be deemed securities, and platforms facilitating trading of tokens could be deemed exchanges. The Singaporean government has taken a similar approach, the Hong Kong government, the Chinese government. I think it is fairly predictable that governments are going to say that offerings that look like securities or commodities will have to be managed and executed in a manner that is compliant with the applicable laws.
BLOCK TRIBUNE:    If China does go forward and creates its own government cryptocurrency, will it be successful?
RICK LEVIN:   Well, it's the second-largest economy in the world. And arguably, it will be the largest economy in the world in the next 10 to 15 years, if not faster. So I think that if the Chinese government decides to implement a digital currency, I think that that will be a success.
BLOCK TRIBUNE:  Do you think it'll be a success that's bigger than bitcoin?
RICK LEVIN:  Yes, it will.  It will be bigger than bitcoin. If you look at the foreign currency markets, the foreign currency markets dwarf bitcoin. Bitcoin is tiny in comparison. Whether it's the US dollar, the euro, the yuan – you put them onto a digital currency mechanism, they will dwarf bitcoin and ethereum.
BLOCK TRIBUNE:  So how will that affect bitcoin and ethereum?
RICK LEVIN:  I don't know if it will.  I think that you currently have people trading traditional fiat currencies electronically in the foreign currency markets, and then you have people who are acquiring bitcoin and ethereum for their own investment purposes or their own non-investment purposes. So I think you will still have people who want to acquire bitcoin, ethereum, and other digital assets.
BLOCK TRIBUNE:   What will be the reaction in the United States to China trying to create its own cryptocurrency?
RICK LEVIN:  Well, I can't speak for the US government. But I believe the level of focus – if you just look at the agencies, the Securities and Exchange Commission, the Commodities Futures Trading Commission, the Internal Revenues Service, the Comptroller of the Currency and the Federal Reserve and the Treasury – (they) have all been looking at digital assets and blockchain technology. So I think that they will continue to focus on it. Whether they decide to create their own digital asset, I'm not sure if they would do that just yet.
BLOCK TRIBUNE:  You believe digital assets should be regulated.
RICK LEVIN:  I think that there has been a pronounced lack of experience with people in the crypto community that digital assets could be subject to regulation. I think we now are seeing regulators stepping up and saying that many of these crypto or digital assets are subject to regulation in a manner that would be either covered by existing or soon-to-be-modified securities, commodities, derivatives regulations, or money laundering regulations. So I think that most people in the space are going to have to get comfortable with that level of focus going forward if they want to stay on the right side of the law.
BLOCK TRIBUNE:    What do you see happening with increased ICO regulations?  
RICK LEVIN: We're talking with clients about how to conduct an offering of tokenized securities, for example, in a manner that would be compliant with the law. And I do believe that it can be done. It can be done under Regulation D. It can also be done under Regulation A or Regulation S under the US securities laws. So I think that we will see more people looking at conducting offerings in that manner.  But I do also believe that the Securities and Exchange Commission needs to look at how to deal with the fact that we have tokens that have been offered that could have been deemed securities, and now you have people holding those tokens who may not be able to trade them through a platform because the platform may be worried about being deemed to be facilitating trading of unregistered or un-exempt securities. So the SEC needs to figure out how it's going to deal with that issue.
BLOCK TRIBUNE:  What's your prediction on that?
RICK LEVIN:   I suspect that there may be an effort at the highest level of the SEC commissioners to address the issue.  There also is a petition for rule-making currently pending before the Securities and Exchange Commission asking for the commissioners to propose a concept release on the regulation of digital assets, which would be subject to public comment under the Administrative Procedure Act, and then to eventually adopt rules to give formal guidance to the industry on how digital assets will be treated. Because right now, the SEC has only been doing that through enforcement actions or through reports and orders like the Dao report. There has not been formal rule making related to the treatment of digital assets at the SEC.
BLOCK TRIBUNE:  Do you anticipate that happening before the end of this year?
RICK LEVIN:  I can't speak for the commission. I would hope that the SEC will publish a concept release before the end of 2018.