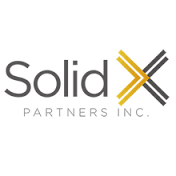 SolidX files to list Bitcoin ETF on the NYSE
br>
SolidX Partners Inc., a blockchain technology firm, announced that it has filed a registration statement on Form S-1 with the Securities and Exchange Commission to launch an exchange-traded fund (ETF) that would offer exposure to bitcoin.
The SolidX Bitcoin Trust will not be actively managed, and will list on the New York Stock Exchange under the ticker symbol "XBTC." An electronic version of the registration statement can be accessed through the SEC's website.
Shares in the trust will be issued in blocks of 10,000 shares to authorized participants, described in the filing as registered broker-dealers who would create and redeem the blocks in baskets, for the delivery of cash (or bitcoins). Bitcoins in the trust, the filing said, would either be sourced on bitcoin exchanges or in over-the-counter (OTC) transactions.
SolidX is the second company to file for a bitcoin exchange-traded product with the U.S. regulators.