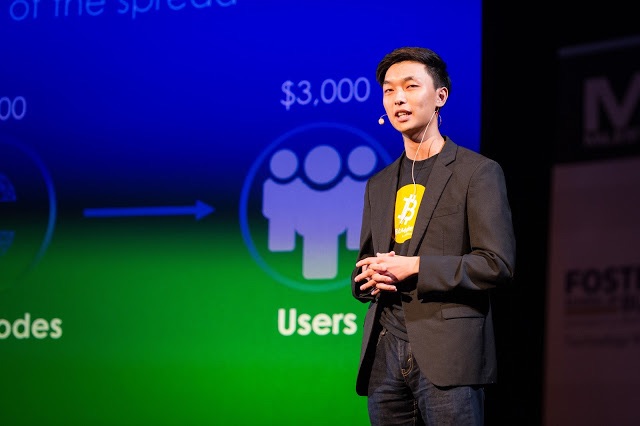 Storm Market: A Decentralized Marketplace for Tasks Using Smart Contracts
br>
Simon Yu is CEO of StormX, the blockchain, AdTech, and micro-task company.
StormX is rebranding its AdTech application "BitMaker" to "Storm Play", and contemporaneously kicking off both the increased gamification of, and the integration of blockchain technology to, the app. To introduce blockchain technology into its technology stack, StormX is introducing the STORM token, an ERC20-compliant token that operates on the ethereum blockchain. "Storm Makers," who post tasks in the Storm Play app, are required to pay for posts in STORM, and "Storm Players," the users of the app who earn rewards for performing tasks consuming various ad content, now have the option of cashing out their earnings in STORM.
The introduction of blockchain to the Storm Play app marks the first step in an evolution toward what StormX envisions as an entire decentralized marketplace for tasks – the "Storm Market." The Storm Market will operate similar to the Apple App Store or the Google Play Store in that it will serve as a platform where Storm Makers and Storm Players can create and accept tasks using smart contracts powered by STORM tokens.
StormX aims to make the Storm Market a platform that operates via a combination of StormX APIs and other proprietary software tools and applications, along with ethereum-based smart contracts for various types of tasks which will execute using STORM tokens. People worldwide can benefit by adopting the Storm Market model as a mechanism for commerce, as it makes it easy for Storm Makers and Storm Players to connect and interact with significantly reduced transaction costs imposed by third parties.
BLOCK TRIBUNE: Could you tell us a bit how StormX got started?
SIMON YU: I started my entrepreneurial journey at the age of 19. After my family declared bankruptcy, I was forced to drop out of college at the University of Washington and find a full time job to pay for rent and food. My full time wage was still not enough for me to go back to school so I started selling Korean tacos, using my mother's recipe, out of my dorm to students studying late night on campus. I then leveraged Facebook's algorithms to improve my strategy, and the tacos went viral. I was able to start a food truck with two friends after returning and graduating with a full time scholarship. I quickly turned and scaled that business into a $500,000 business with ten employees in less than two years. At the same time, I was determined to work with Calvin to build BitMaker for CakeCodes, now StormX, which actually started as a computer science project.
BLOCK TRIBUNE: What was your biggest challenge in putting this together?
SIMON YU: The biggest challenge in putting together StormX has been expanding at such a rate, while listening to our users and giving them what they need. But this also gave us the opportunity to realize that we can completely change the game, and this has helped us grow exponentially. In the early days of StormX, we found that users enjoyed being able to earn, but they wanted more opportunities to earn. From this feedback, we found that the system is incredibly broken. Most of the existing services charge as much as 20 – 40%. Using automation, we were able to drastically reduce almost all of these fees, and give the power back to our users.
BLOCK TRIBUNE: As you look at StormX's roadmap now and into the future, what is a key milestone that you see for yourself?
SIMON YU: StormX's next big milestone will be our STORM token crowdsale, which starts on October 20. With a highly successful limited private pre-sale, which raised $16.5 million behind us and more than 9,641 individuals pre-registered for our community appreciation sale period already, we're confident that we'll be set up for the long-term success and development of our platform. Looking further down the track, StormX will be launching major applications into our ecosystem, including Storm Shop, an application that rewards shoppers with cryptocurrency for everyday purchases. StormX also has 270,000 monthly active users in 187 countries and we're excited to keep growing and strengthening our community.
BLOCK TRIBUNE: Multiple countries issued warnings to their citizens about the dangers of ICOs. How are the holders of StormX tokens protected under the current framework?
SIMON YU: I highly recommend anyone interested in participating in an ICO to do their due diligence. With so many projects on the market of varying quality, it's critical that people really investigate the terms of the sale, know who the team behind the project is, and fully understand the technology and future roadmap of the project. Read everything you can, join in the community discussions, and ask a lot of questions.
STORM tokens work exclusively within the Storm ecosystem, letting users pay for services within the platform. Our team has worked together for several years and has a history of execution and growing a profitable business.
Our Board of Advisors includes some of the most respected names in the industry, including Jaxx CEO Anthony Di Iorio, Bittrex CEO and Founder Bill Shihara, Bancor Co-Founder Guy Benartzi, founding CTO of Zynga Tom Bollich, AlphaBit.fund CEO Liam Robertson and Strategist Brad Mills, VOIP pioneer and Vonage Founder and CEO Jeff Pulver, Alchemist Ventures and Ethereum Chief Strategist Steven Nerayoff Esq. LL.M., Juloot interactive Founder Hanan Gazit Ph.D., Brian Kelly Capital LLC Founder and CNBC contributor Brian Kelly, and Appuri Founder and CTO Damon Danieli.
I'd also encourage anyone interested to read our whitepaper to learn more about the technology behind our project.
BLOCK TRIBUNE: Where do you see the value of StormX tokens in the medium to long term and the ultimate benefit for token holders?
SIMON YU: StormX's primary concern is building the strongest possible ecosystem to provide our community with value. Based on the success we have had so far with listening to our users, and taking on board what we have learned from staying so close to our customers, we see StormX as staying highly competitive and sustainable long term.
By creating a diverse and large community of employers and freelancers available to perform 'micro-tasks', and a strong portfolio of partnerships with industry leading organizations, our token holders will have the best possible opportunities to engage in the rapidly growing gig economy.