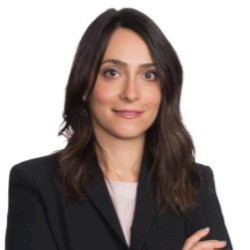 Blockchain Lawyer Michelle Ann Gitlitz Joins Law Firm Crowell & Moring
br>
International law firm Crowell & Moring LLP has hired Michelle Ann Gitlitz to lead its global Blockchain and Digital Assets practice.
Crowell & Moring LLP is an international law firm with approximately 550 lawyers representing clients in litigation and arbitration, regulatory, and transactional matters. The firm is internationally recognized for its representation of Fortune 500 companies in high-stakes litigation, as well as its ongoing commitment to pro bono service and diversity. The firm has offices in Washington, New York, Los Angeles, San Francisco, Orange County, London, and Brussels.
Gitlitz founded and co-led Blank Rome LLP's Blockchain Technology and Digital Currencies Group. She advises clients on the legal, regulatory, and risk management issues surrounding coin/token offerings, including: launching new offerings and remediating prior offerings; working with clients in connection with digital currency exchanges/platforms; establishing new blockchains and nodes; and advising clients on navigating federal and state money transmission laws.
Gitlitz is widely respected as a leader in the area of distributed-ledger technology. She was among those in the legal industry who early on recognized that coin/tokens offered to investors could be treated as securities falling under the purview of the Securities Exchange Commission. She is a board member of the MIT Computation Law Report and a member of and contributor to the Wall Street Blockchain Alliance and the Digital Chamber of Commerce.
Gitlitz, who will be joining Crowell & Moring's New York office, will reportedly strengthen the firm's ability to counsel clients, both emerging and established businesses, on the legal and regulatory issues that arise when clients invest in and incorporate blockchain technology and digital assets into their businesses.
"Michelle's innovative practice will be of great value to our technology and financial services clients, as well as any client launching or changing its business to adapt to emerging technology trends," said Philip T. Inglima, chair of Crowell & Moring. "Michelle's work with payment companies in the cryptocurrency space, blockchain nodes, mining and staking operations, coin/token issuers, and cryptocurrency hedge funds give her the ability to translate complex technical issues to clients and regulators to achieve stellar results for her clients."
"Business is changing rapidly due to the invention and adoption of innovative technology," Gitlitz said. "Clients need law firms that understand these changes and can assist both emerging and established companies with implementing technological solutions in an efficient and legally compliant manner. Crowell & Moring is at the forefront of advising clients with digital transformation and is building the best team available to help clients with this transition. The firm provides me the opportunity to grow my practice while continuing to provide my clients with the best regulatory, corporate, and litigation counsel possible."