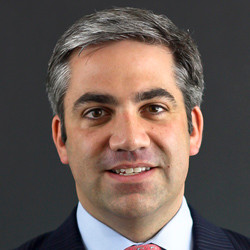 Blockchain's Proof of Trust Hires Joseph Arcata As CEO
br>
Blockchain platform Proof of Trust has appointed Joseph "Jay" Arcata III as its chief executive officer (CEO).
Proof of Trust, formerly known as iCash, is a blockchain-based platform that brings immutability and distributed trust for smart contracts and data storage. Its blockchain protocol enables real-world inputs to be validated by decentralized participants in settling smart contracts. The company claims that its use case is particularly compelling to institutions looking for a low-cost, secure, and trustworthy tool to provide seamless data transfer into smart contracts.
Arcata brings years of business formation and legal regulatory expertise to the company. He spent several years as a partner at Connecticut law firm Halloran Sage, where he founded and was the head of the Cybersecurity, Data Privacy, and Technology practice group, where he lent insights on nascent technologies to his clients, including on smart contracts.
"I am thrilled to be joining the Proof of Trust team," said Arcata. "I am equally excited to play a role in the development of the company and its namesake smart contract platform, which I believe will serve as a fundamental component of all smart contract transactions in the future."
The company also announced a new Proof of Trust C-suite, which is part of a brand shift away from its former company name iCash. The C-suite named Carol Lin Vieira as its new chief marketing officer (CMO) and Adnan Akhand, BX3's vice president of accounting and compliance, as the new Proof of Trust chief financial officer (CFO). Both come to their new roles with deep knowledge of how to apply their skill sets to this burgeoning niche sector.
Rounding out the iCash executive team are Sakhib Waseem, an executive-level expert in financial technology, as board director and head of corporate strategy, and advisors Dean Armstrong, a longtime legal expert, Dr. Sam Kelly, a blockchain researcher with a deep background in physics and mathematics, the Right Honourable Sir Robin Jacob, a foremost IP judicial expert and former patent judge, Scott Lanphere, a longtime investment analyst and advisor, Rose Schindler, legal counsel at Greenspoon Marder, and Anne Szustek Talbot, a onetime journalist with experience covering asset management, FinTech, tax, and litigation, as director of content and public relations.