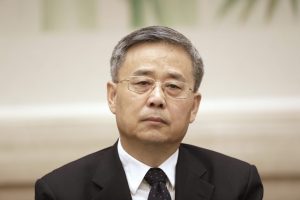 China's Central Bank Names Guo Shuqing As Regulations Head
br>
The People's Bank of China (PBoC), the country's central bank, has appointed Guo Shuqing as the new regulations head for the banking and insurance sectors.
Guo was the head of the China Banking Regulatory Commission, which was merged last week with the China Insurance Regulatory Commission in a Parliament approved government realignment.
Guo's appointment is seen as an effort to manage risk in the high-flying sectors, some of whose companies have amassed considerable debt, much to the consternation of the central government. Guo is a known pro-market reformer and is known to take aggressive stances, a trait that may have cost him the top spot at the central bank.
His new tasks will focus on refining the lending practices of banks and insurers and slow the growth of debt in the economy. He will also be tasked with what was termed "emerging systemic threats," which could refer to China's shadow banking system or potentially cryptocurrencies, officially banned in the county.
On Monday, Yi Gang was named the new governor of the PBoC, the equivalent of the chairman of the US Federal Reserve.