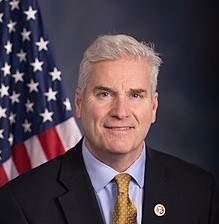 GOP Rep. Emmer: 'Crypto should be fostered in the U.S.'
br>
When Tom Emmer (R-MN) joined Congress nearly nine years ago, a staffer gave him a book about the promise of blockchain and crypto in restoring financial control to the individual.
Since then, the U.S. House Majority Whip has continued his strong advocacy for digital assets and the creation of a regulatory framework.
"I just saw this technology as a solution to the mismanagement of our monetary policy and the restoration of vital American values: privacy, individual sovereignty, and free markets," he said.
Emmer was among the U.S. House of Representatives who lectured at the 2023 D.C. Blockchain Summit last week along with Congressman French Hill (R-AK), and Congressman Pete Sessions (R-TX).
"Crypto should be fostered and developed in the United States, just like the internet," he said.
The D.C. Blockchain Summit is organized annually by the Digital Chamber of Commerce. Emmer opened the event with a speech titled "The U.S. Must Lead."
"As government-controlled programmable money that can easily be weaponized into a surveillance tool, the very ethos of central bank digital currencies is everything Bitcoin and crypto stand against; it's everything the United States of America stands against," he said at the summit.
Emmer is also a co-chair of the Congressional Blockchain Caucus.
In the past year, blockchain companies raised $26.8 billion globally and 57% of that money has been invested in U.S. companies, according to data provided by the Chamber of Digital Commerce.
Emmer noted the emerging ownership economy and advocated for American leadership in that economy to be "propelled by our ability to leverage innovations that make markets and communication more efficient."
Following the summit on March 23, Emmer introduced the Blockchain Regulatory Certainty Act (BCRA) along with Congressman Darren Soto (D-FL).
The BCRA, if approved, would require that to transmit money, blockchain developers and service providers must custody consumer funds.
"If you don't custody consumer funds, you aren't a money transmitter," Emmer said. "My bill provides that necessary confirmation for the blockchain community. The longer we delay providing this commonsense clarification, the greater risk that this transformative technology is driven overseas, depriving domestic users and investors. This bill will help America remain a technological leader in the crypto space."
Chamber of Digital Commerce Founder and CEO Perianne Boring argued that a lack of clarity is a serious risk to ongoing growth and innovation in the blockchain and digital asset industry.
"This must be addressed and the Chamber strongly supports this bill, which will help create a more hospitable environment for innovators and encourage growth where inconsistent state and federal legislation has hampered our industry," she said.